Benefits for customers
Benefits through all three dimensions
Our base study in 1992 and all our experience since then have clearly proven that sustainable, successful organisations and projects are successful in all three dimensions: business, technical and human
Every day work life is three dimensional
Ideally, professional thinking and implementation are three dimensional. That's why all our implementation activities are focussed on all three dimensions. For example, it makes little sense to take action with a one sided human view, if it contradicts the business or technical aspects. And vice versa.
Benefits through measurement and understanding
The subjective view of a manager or an individual is not sufficient to initiate and implement major changes or improvements in an organisation. For such things an overall view is essential. Willingness to tackle a problem is generated when people gain awareness by viewing a problem through a global lens.
Benefits through common responsibility
Each team starts to handle things based on their own results and focal points, instead of waiting for «the managers at the top»
The appropriate questions are:
What can I do? (regarding business, technical, human factors)
What can the team do? (regarding business, technical, human factors)
What can the organisation do? (regarding business, technical, human factors)
Factors for success:
Business/Technical/Human
Success = B x T x H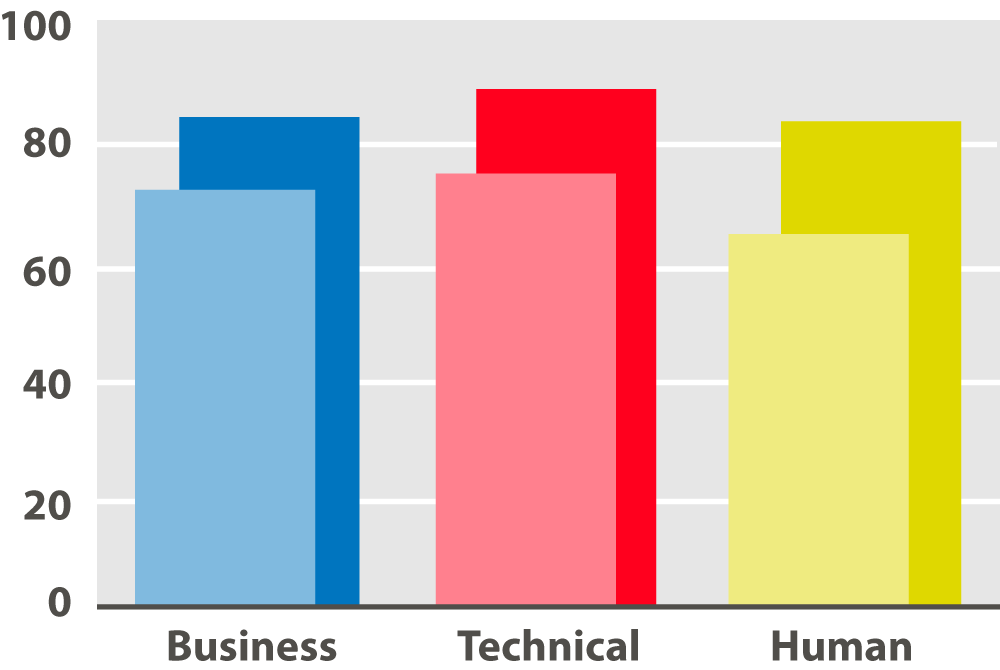 Benefits through focus on implementation
The TriPol-Barometer was developed in the field for practical implementations in the field. The foundation was a systematic analysis of the differences between successful and unsuccessful (even failing) projects and organisational units.
The focus on practical implementation is of great value and benefit to our customers. They deserve concrete results. One year after a barometer assessment and implementation of the findings we can do another assessment, comparing the results. The progress is obvious. Our best team improved its averages by 49% in one year!
Benefits through a systematic approach
Many improvement measures and action plans fail because they try to do too much. Too much is planned with too little time to accomplish it. One of the strengths of our methodology is that through our systematic approach, we are able to identify the key focal points amid all the complexities of a situation. By analysing all the interlinking factors, we are able to identify what development is needed for the entire organisation or project in order to meet its goals.